This afternoon I took a play day and drove to Sacramento with my daughter and her two small dogs. I could have stayed home and written this blog post but in reality I couldn't think of anything to write about that seemed worthwhile anyway. What was worth my time was being with my daughter who wanted to spend some time with me on a little road trip.
We didn't plan to go to Sacramento. We had originally planned to go to Calistoga but while I was driving and we were talking I missed the freeway exit. After I realized what happened I took the next exit ramp to turn around but that exit didn't allow me to turn back. It took me even further away in another direction. I took the next exit to try to get back on course but we decided to forget our original destination and decided to go to Sacramento instead since we were now going in that direction and to go find the capital building.
I hadn't been to the capital building in about 20 years. I had taken my children when they were very little and for my daughter she said it would be like it was her first time going because she didn't remember the experience back then.
Once we got to Sacramento, I took an exit that said Downtown. It seemed like a good enough place to start looking. Once off the freeway I saw another sign that said Old Sacramento. Okay, lets go that way. We went across a bright yellow drawbridge and as we looked forward, right ahead of us was the capital.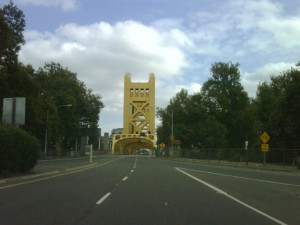 Wow, it was so easy to find without even really trying. We drove right up to the building and found one available parking spot, across the street, almost directly in front of the entrance.
We made it. We got out, took the dogs for a walk around the grounds and hung around for about an hour.
Finding our way back to the freeway was a breeze and the road home was very easy.
I am a very easy-going person and so is my daughter. This is why not going to our original destination was not seen as negative or a failure. We were not disappointed with the outcome but pleased that day was a success. Just because we got lost a little in the middle of our journey didn't spoil the whole trip. It turned into a fun little adventure. We were richer for the experience.
What experiences have you had that didn't turn out the way you expected and were just as amazing or even better than you had anticipated?