This is a peek into my process this week:
I installed my Dia de los Muertos altar today at Petaluma Pie Company. It is not a traditional altar but more of a window dressing in its appearance.
My intention with the installation was to show that the mini pie tins were taking flight, transitioning from this life to the next. They were all smiling because they fulfilled their life's purpose, providing nourishment through the labor and love of the people running The Petaluma Pie Company.
The bright tissue paper flowers represent live flowers. Although live flowers may have a relatively short life span, they fulfill their purpose by bringing beauty to the eye and to the senses of scent and touch and occasionally taste. They provide nourishment to many life forms including winged insects and birds.
Wings are a way to fly from one place to the next, a way to leave the nest, or a way to time travel from one reality into the next reality.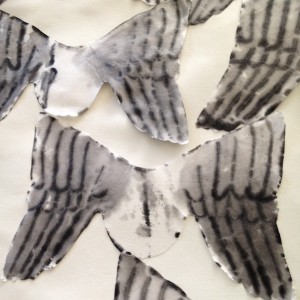 The faces were also attached with tiny brads and were then decorated with sequins and glitter.
When my children were growing up and we lived in Santa Cruz County, we regularly created an altar at our home and actively participated in the local community events.
Moving to the San Francisco Bay Area, I was able to go to occasional events but always as an observer and not participating in an active role.
By chance (or not, depending on what you may believe), I found out about Petaluma Art Center's Dia de los Muertos events on September 22, 2012. Less than two weeks later, my installation was included in this year's celebration of life.
I am blessed by the open arms that I have found in Petaluma and grateful to them by allowing me to participate.