Bon Voyage! Journal Writing Prompt
"A ship is safe in harbor, but that's not what ships are for."       ~William Shedd
I created another 3-D visual journal writing prompt and video for you.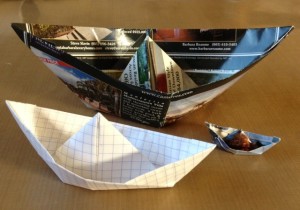 What I like about this journal writing project is that unlike a journal that may be closed up and put away, the boats can be displayed. When I look at mine, I am reminded of what I wrote inside.
I left my boats unadorned but feel free to add paint, markers, or washi tape to yours as you see fit.
Unlike a home that represents stability and shelter, a boat is meant to take you on a voyage, even it's a short ride around a lake – unless it's a house boat and then my comparison doesn't apply.
There can be more of a risk because of all of the variables that come with going out on the water.
As a captain we have the opportunity to pilot a boat in the direction that we wish to go.
Your journal writing prompt:
Where do you want to go from here?
If you don't know where you want to go, answer it as if you already knew. The reason that I picked this prompt is that we always have the chance to correct course. If your life is not going in the direction that you intended, what could you do to make it better? It doesn't need to be a huge change, even just starting out by writing about it will help start the process.
The video below shows you how to fold the boat and where the secret journal writing spot is.
I would love to hear how this process went for you in the comments section below.