MINI WORKSHOP: Four Steps to Connecting with Your Inner Critic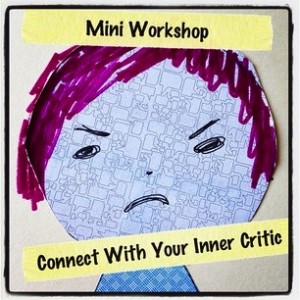 Sign up to receive instant access to a free mini workshop called: Four Steps to Connecting with Your Inner Critic.
You will receive a PDF workbook with journal prompts and the links to four private videos to help you understand how to move forward in spite of the inner critic.
Enter your name and email address in the form on the right and get started right away.
####
PODCASTS
Kelly Burkhart and I had a podcast called: Twenty Minutes to Peace.
A podcast is a recorded radio show that you can listen to online or download to a mobile device and listen to it when you are ready. You can also listen to the episodes over again if you are so inspired.
In each episode, we discussed the ways that you can bring harmony and peace into your life through practical techniques.
Subscribe or listen on iTunes here.
####
ENRICH YOUR LIFE WITH VISUAL JOURNALING (PDF)
I am a huge fan of using a visual journal, also called an art journal, on a regular basis to record my thoughts and work through projects.
It's a wonderful place to be creative that doesn't take up a lot of room.
This PDF is a brief overview of how you can get started with your own journal.
Click here to download a copy. If you enjoy the copy, please spread the word!