Well it wasn't really a party but the Emeryville Visual Journal Meet Up event that I had created. It was attended by only one person: me.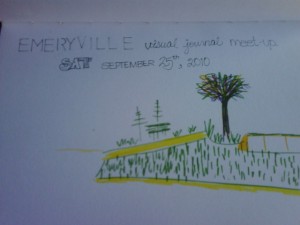 This was the first time that I created an event and no one showed up. This experience wasn't as bad as I thought it would be because:
It was a beautiful day
I was able to walk to the park where the event was held
I worked in my visual journal
I had time to work on my upcoming eBook
I talked with a friend on the phone on my walk back home
I could have gone the other way with my emotions. I could have looked at it in a negative way and taken it personally. But instead, I looked at the wonderful things that came out of it.
I am going to create another event in a few weeks and see if anyone shows up. If no one comes, I will reassess the situation. Perhaps this is an activity that I am passionate about in a singular way. Or it is at a bad time of the day, or perhaps it is not at the best location for participants. Maybe I should have promoted it more.
Have you ever thrown a party and nobody came? What experience did you have during the event and afterwards?