I admit I am impatient sometimes. And I like to keep my hands clean.
This techniques helps with these two qualities.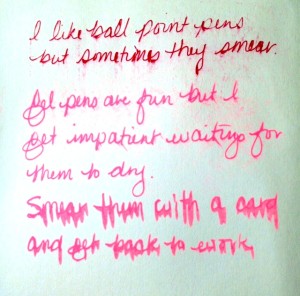 I like to write in my journal with brightly colored ball point pens and with gel pens but they can smear on the Moleskine Sketchbook paper because of the coating.
My solution is to take advantage of the situation and use it as a design element in my pages. A plastic card works great to smear the ink and helps dry it. I can close my book without transferring the wet or sticky ink onto the facing page.