As much as I love playing in art journals, I also love working on loose pages.
They are super portable and light weight, whether you are on the road or sitting on the sofa.
You can use a variety of paper weights or types as your mood or art medium dictates.
You can work on several at a time, knowing they won't stick to each other like journal pages can when you don't wait for pages to dry.
Easy to turn into gifts and share.
Easy to display.
What I don't like:
Random piles of loose papers on my work table, desk, end table, dinning table. In other words, all over the place!
I created this workshop because I wanted to have a place to hold my papers and to be able to take them on the road (or sofa).
The pages live in a dedicated place, like a sacred altar with doors that open to creativity.
Created with one 22″ x 30″ sheet of paper with no waste.
No sewing necessary.
The most important supplies are the 22″ x 30″ sheet of paper and gesso. You will use art supplies you already have on hand, so it's very economical.
You will get twelve page surfaces, not including all of the flaps, covers, the inside and the outside of the portfolio for art journaling use.
Don't know what to journal about? No worries, quick and easy prompts are included. Writing your deepest, private thoughts are optional so it makes sharing easy.
The portfolio can also be used to hold your collection of loose pages from other projects, notes, lists, prints, letters, photographs, bills, collage bits and ephemera, etc.
No blank-page, brand-new-journal I don't know where/how to start syndrome!
Not too big, and not too small, this portfolio and its pages are just right.
Granting access is a manual process. I will send you an email with your log-in information as soon as possible, usually within 24 hours.
Sign up by clicking on button: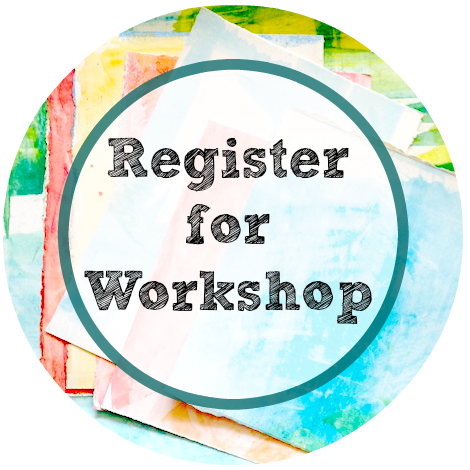 ---
 Supply List
22" x 30" sheet of paper (I used Stonehenge 90 lb., white. Another paper I recommend is Strathmore 500 Series mixed-media.)
Ruler – at least 12"
Plastic discarded hotel key or gift card
Something to protect your work surface from spills, paper towels for clean up
Optional – scissors or craft knife
Optional – washi tape, regular tape or glue stick and small sheet of paper
Spray bottle filled with water
You can use any colors and brands that you like for the remaining supplies. You will see the rest of the list in the workshop.
Don't think. Thinking is the enemy of creativity. It's self-conscious, and anything self-conscious is lousy. You can't try to do things. You simply must do things.  -Ray Bradbury
---
Questions and Answers
How much is the workshop?
$20 USD for unlimited access to private page, full-color PDF with directions and diagrams, and video demonstration.
Where is this workshop held?
Access to the workshop is right here on this website.
Do I need to show up at a certain day or time?
This is a self-paced workshop with access twenty-four hours a day, seven days a week. After payment is received I will send you an email within 48 hours with your link to the private page on this site.
What kind of time commitment should I expect?
Drying time of the wet materials (gesso, paints) will vary depending on your location. If you want to speed things along you can, with a hair dryer, fan or heat gun.
What kind of internet connection will I need?
If you can watch youtube videos, you should be able to watch without any problem.
Will I be able to download the videos?
No need to fill up your computer with large files, the instructional video is hosted here. You can watch over and over because you will have unlimited access.
Do I need to know anything about this subject before I take the course?
We all need to start somewhere. It's perfect for people who are just starting out and are afraid of the blank page. Sometimes working in a journal can be intimidating because it seems so final.
If you have lots of experience or have taken other mixed media workshops I think you will enjoy creating the portfolio to hold all of your work.
How long will the course material be available?
You will have lifetime access.
What will we be covering?
You will be shown how to:
apply gesso without brush marks
apply paint colors so they stay bright and clear
measure and cut the portfolio and pages
add additional layers
use journaling prompts in a way that doesn't have to reveal everything

Can I share my login information with my friends or family?
Please do not distribute or share your username and password for the class. Your registration is meant for you and only you.
Granting access is a manual process. I will send you an email with your log-in information as soon as possible, usually within 24 hours.
Sign up by clicking on button:

Do you have additional questions that I did not answer? Contact me through this form.