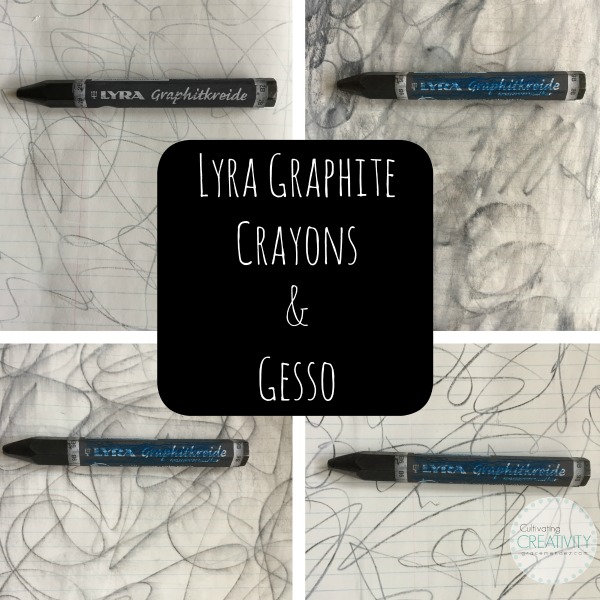 Lyra Graphite Crayons and Gesso
Lyra Graphite Crayons come in a variety of hardnesses.
I don't think of them as traditional crayons because they are not waxy. But they are hefty like a crayon. It is like you are using a big solid piece of pencil lead.
I love the 9B crayon as it gives a very dark line like a charcoal pencil but doesn't crumble like charcoal does.
Lyra Graphite Crayons also come in a water soluble version as well.
My only suggestion to the company would be to make the paper wrappers two different colors in order to differentiate the regular and the water soluble crayons. I used a blue crayon to color the wrapper myself. I keep mine altogether in one cup and it's easier to see at a glance the two different types.
In the video, I use the crayons to create a scribbled background and go over them with a thin coat of white gesso.
I create four different pages.
The 2B non-water soluble crayon is applied on one page.
There is no big surprise in the results. The pencil doesn't move under the gesso and fades into the background.
I move on to the water soluble crayon as there is more possibility between the reaction of the crayon and any wet media.
I experiment with using the 9B water soluble crayon in three ways.
Apply to page. Cover with gesso.
Apply to page. Mist with water. Cover with gesso.
Mist page with water. Apply to page. Cover with gesso.
Three different looks with a minimal change in order of application.
Have you used this product? How do you like them?