Painted Blossoms Book and Abstract Flower Painting Video
I bought the book, Painted Blossoms by Carrie Schmitt, a few months ago and flipped through it. Although I loved the book and all of the artwork I didn't try any of the techniques until I purchased her video of Abstract Flower Painting.
The video inspired me to try it right away. I watched it once from beginning to end before starting. When I played it a second time, I stopped it at each step as needed.
I found a piece of 4′ x 18″ plywood in the garage and prepped it with a couple coats of GAC 100 to prevent discoloration seeping through from the wood.  From that point I followed the video instruction.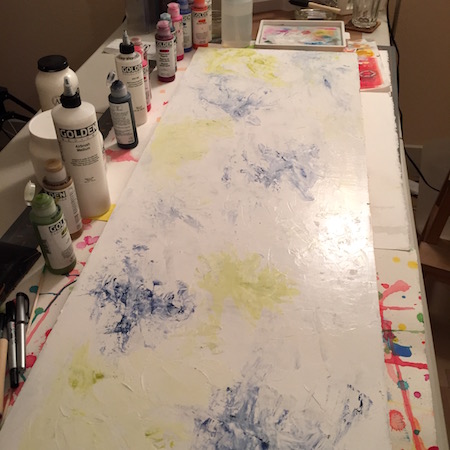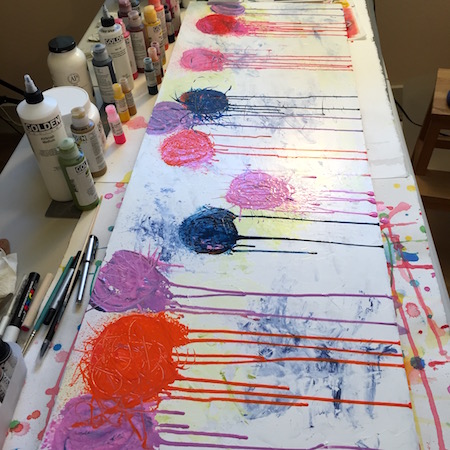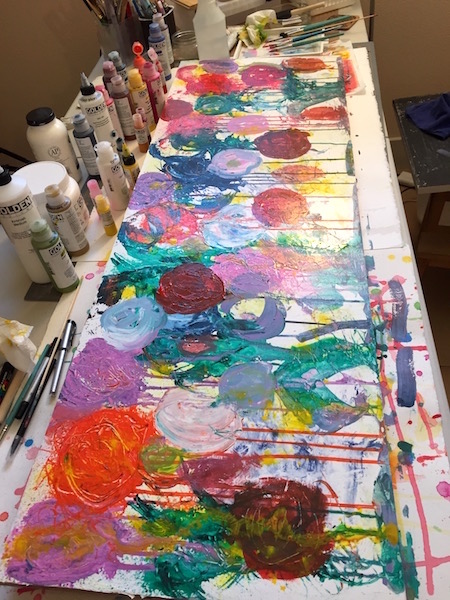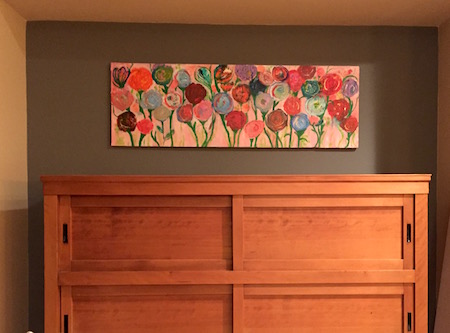 Carrie's teaching style is very calm and reassuring. I loved watching her paint and the ease in which her painting came together.
I couldn't believe how fast I completed mine. It's not a perfect painting at all, but considering I did it in one day I was amazed with what I did.
I found it liberating to allow what ever showed up. It was messy work, which is not my normal style. And it was so much fun. I think that was the best part. Plus, working large has its own rewards, like being able to hang it up as a piece of artwork. A lot of the artwork that I do is so small and hides from view in art journals.
Working in abstract art has several qualities that makes it an appealing process if you are open and:
You are not so attached to what you have made that you stop your painting too early for fear of ruining it.
You are not attached to a particular outcome.
You want to and are able to let go and enjoy the process.
Abstract art is about allowing and about the process of doing.
It's the kind of art that people who go to a museum or gallery view and say, "I could do that."
Yes, they can, but most people don't.
Which way do you like learning art techniques? By book or by video?