Asian Art Museum of San Francisco
I recently visited the Asian Art Museum of San Francisco. Not only did I visit the Asian Art Museum, I joined. And I joined at the Premium level which gives access to 800 reciprocal museums. Will I visit all 800? Doubt it, but I will be able to visit a lot of the local museums on the list.
Here is a sneak peek into the museum.
There is a small display on Hidden Meanings that I enjoyed, given that I just wrapped up a four-part series on symbols.
The Asian Art Museum has so much to see. A pass will allow a more in-depth exploration without the need to hurry to see everything in one visit. I think that is one of the best things about purchasing a membership. This museum, plus several other local museums offers a Free Day once a month. The Free Days are great but also bring an abundance of people, too. One time my husband and I went to the Oakland Museum of California on a Free Day and I could not see the exhibits because there were so many people. There were too many people deep in front of the items and I'm not tall enough to see over their heads. A membership will let us go when there aren't as many people.
There is an app in iTunes with an abbreviated tour of the museum. It's no substitute but it gives a hint of what the museum is like.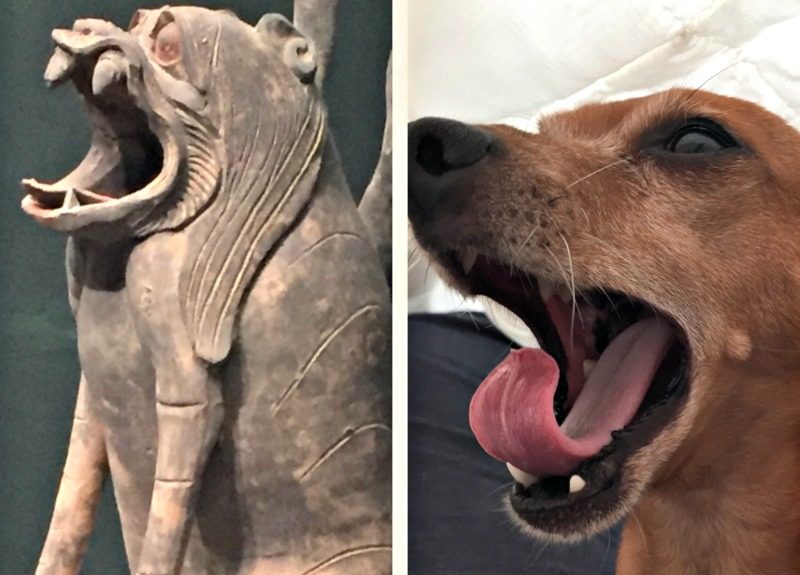 Funny side note: when I got home from the museum, I took a picture of Olivia yawning and realized that the pose looked familiar.
Which has been your favorite museum to visit?