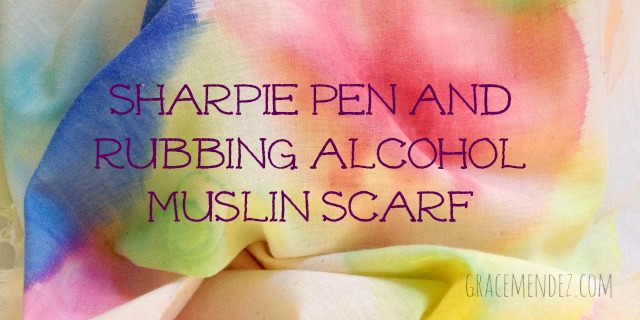 Sharpie Pens and Rubbing Alcohol Muslin Scarf Tutorial
A friend shared a pin she found on Pinterest of combining Sharpie pens and rubbing alcohol.
I tried the technique on paper, then I tried it on a scrap of fabric. I liked it much better on the fabric.
The Stained markers didn't work very well, meaning they didn't react much with the alcohol. I guess that is the point, they are made to be permanent.
It was fun watching the Sharpie pens and the rubbing alcohol move through the fibers. Caution: work in a well ventilated area.
I didn't hem the scarf and I don't plan to. If you don't like to sew, this is perfect for you.
Gather your supplies:
Sharpie pens
rubbing alcohol
muslin fabric – I'm using a very inexpensive muslin cut to 15″ x 75″
eye dropper
rubbing alcohol
iron or dryer
something to protect your work surface – I used Freezer Wrap.
It's a simple process:
Draw on the fabric
Drop rubbing alcohol on marker spots
Heat set fabric – I ironed fabric when it was dry
Wash fabric
Let dry
Wrap and go!