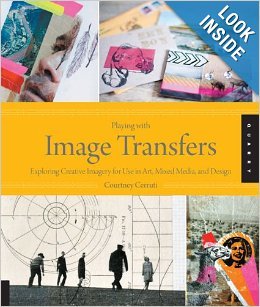 Solvent Transfer Tutorial in an Art Journal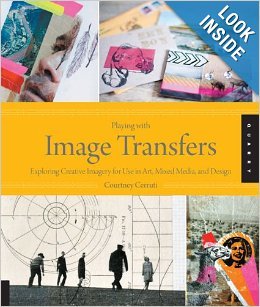 I met Courtney Cerruti when we were both in a fabric design school. Her book called "Playing with Image Transfers: Exploring Creative Imagery for Use in Art, Mixed Media and Design" is the inspiration.
I want to show you something that I did in my art journal using a technique that Courtney describes in her book using the solvent method.
You will need:
laser copy
watercolors
art journal
I selected an image from a series that I am working on called: Birds with Shoes.
My original is made with pencil and watercolor on Strathmore Mixed Media paper.
We have a laser printer that uses black toner. Another other option is to make copies from a copy shop because using an ink jet print won't work with this process.
After making the copy, cut out the excess paper that surrounds the copy.
The copy is put face down where you want it to transfer to. My art journal is made with Strathmore Mixed Media paper. The background on my page is made with Derwent Inktense Blocks and water.
A tiny bit of tape keeps the copy from moving while saturating the back of the image.
This was my first time using the pen and because the pen is new and juicy there was no problem getting the back of the paper wet with the nib of the pen. It does smell so if you are sensitive to chemical odors you may not want to try this method.
Lift up the corner of the transfer to check on the progress.
I could tell it was working and to make sure that it was going to really transfer, I used the capped pen to burnish the back of the copy after it was all saturated.
The copy transferred very well except for the legs. I was okay with that because I had the original image to guide me.
I let it dry for about an hour before adding watercolor.
It was freeing in that:
I didn't have to create an image from scratch
I wan't glueing anything into my book – not that there's anything wrong with that, just not what I was looking for today.
If I had used a color copy I think it might have locked me into the color choices that I had made at the time of creating my original.
Using the black laser copy freed up me in a way that I had not imagined in the beginning.
As you can see from my image in the art journal, I chose different colors than I used in the original. To be honest, before I started this process I wished I had a color laser printer at home because I was feeling lazy about going to Kinko's to make a color copy – so I didn't go. I'm so glad that I did it with the black toner only.
If you look closely you can see the toner under the transparent watercolor. It looks like graphite. It creates a subtle layering effect.
I believe the word "Playing" in the title of Courtney's book is an accurate fit.
I can't wait to play some more.
Please let me know if you have any questions about this process. Also, share your experience with us in the comment section below.