Stabilo Woody 3 in 1 Review
I recently purchased a set of 18 of the Stabilo Woody 3 in 1.
I have the few Stabilo All Colored Marking Pencils  and love them but they don't come in all the colors that the Woodies do.
Honestly I don't need anymore art supplies. But that doesn't keep me from wanting or from buying new supplies.
The Stabilo Woody 3 in 1 pencils are similar in use as the Caran d'Ache Neocolor II Artist Crayons. Both can be used dry as a crayon or you can activate them with water to spread the color around.
The Stabilo Woody pencils are super creamy. The wood casing makes them sturdy so you can push down firmly without risk of breaking them. This makes them ideal for kids. I don't see how the tip would break off like a regular sized pencil would and they certainly won't break in pieces like crayons do.
The downside to the creaminess and softness means that they don't hold a point very long. This makes coloring a specific spot more difficult. Working larger or with less attachment to outcome the is ideal way to approach that.
They can be sharpened with their super large sharpener. I think most of their sets come a sharpener. I haven't tried sharpening one yet and I don't know what they will like to work with when they get down to little stubs.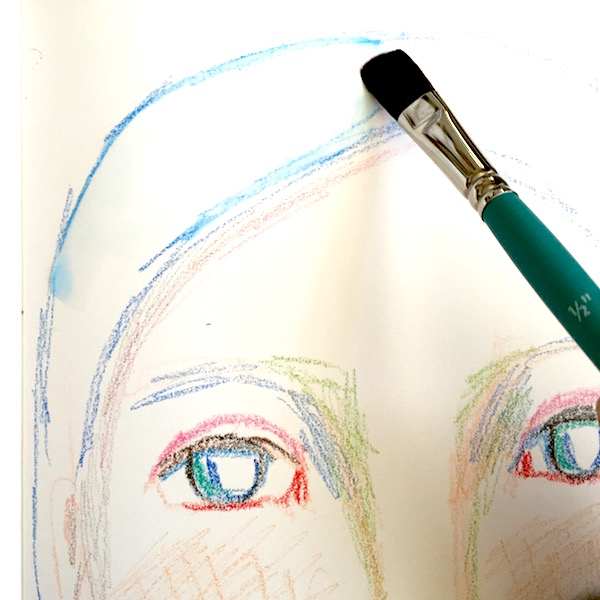 I found that if you use them on untreated paper they don't lift as easily as a regular watercolor does.
However over gesso, they can wash right off. In an experiment in my altered journal, I had to be careful not to completely remove the color with my wet paint brush.
I had the most fun with them in my abstract experiment. After scribbling on piece of paper, I sprayed it with water. The black Woody's pigment spread in interesting patterns where the other colors stayed put.
My conclusion is that the Stabilo Woody 3 in 1 is a fun art supply that works best when you are not trying to be exact in applying them directly to the substrate. If you wet the tip of the pencil with a wet paintbrush and apply the pigment with the brush, you will have more control.
The formula is not the same as what is inside of the Stabilo All. The Stabilo All's lead is a lot harder.
As I work with them more, I will decide if I will buy them again. Right now, I have no regrets.
Is there an art supply that you finally bought that you wished you had bought it sooner? Or how about one that you bought and it wasn't what you had hoped for?