Some thoughts on getting organized.
If you put off everything till you're sure of it, you'll never get anything done." ~ Norman Vincent Peale
Nothing stops me more than not having my supplies ready at hand.
You will have to come up with a system that works for you, but from my experience, grouping like objects makes finding what I want to use a breeze. If it's easy to find, then it's more likely that I am going to work on my projects.
If all of your art supplies fit in a shoebox or similar container, you can stop reading here. You can pick up your box and start playing with your supplies.
The more supplies you have, the more complicated the process.
I know some people like to group their supplies by color. For instance, if you have markers, colored pencils, and gel pens, all the red colored writing instruments go together. Personally, I do not sort my supplies that way.
For my pencils, some markers, pens, and crayons, I use cups and containers so they stand upright. Occasionally, It allows me to see at a quick glance what I want to use. I pick up the whole cup and bring it to my desk and when I am done, I return it to the cart. Rolling carts with several shelves make the supplies readily available and easy to put back when it's time to clean up.
Earlier I said "some makers" go in cups. The rest of my markers are in clear plastic containers with a lid and stack on a shelf. A lot of manufacturers recommend that you store their pens on their sides. Check the manufacturers' websites to see their suggestions on how to store their products.
You will come up with a way to be organized that makes sense for you.
A solution that works for me is not necessarily a solution that will work for you. As your collection of art supplies grows or diminishes, make adjustments.
Notice the type of environment in which you like to create. Do you like a clean work surface? Does a messy work surface inspire you?
Part of your environment may or may not include music. Will music help or hinder your creative process?
What about scent? Will a candle or bouquet of flowers inspire you?
Do you have enough light?
The most important suggestion I can make about how to get organized is to try out a system and see if it works.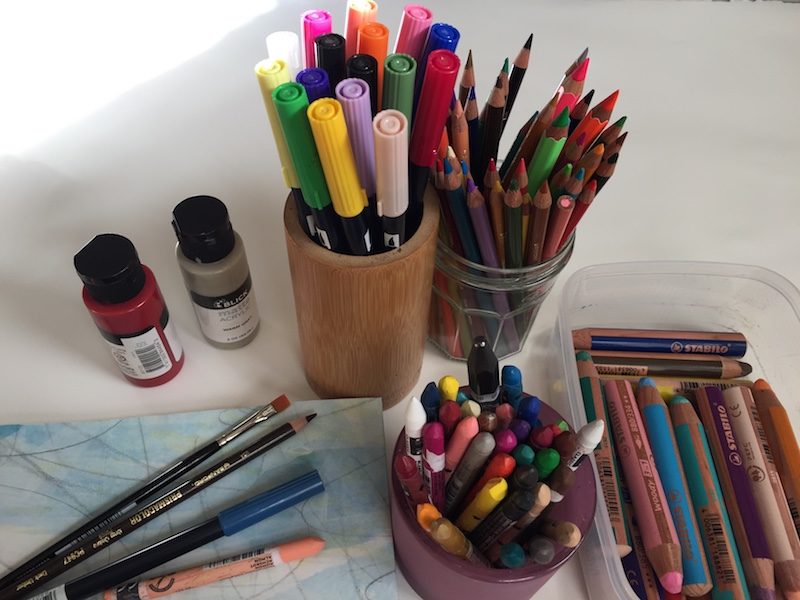 Read Part 1: Procrastination Disguised as Something Else HERE
Read Part 2: Procrastination: Where to Start HERE