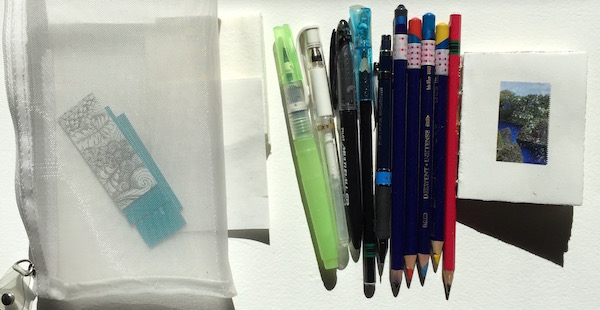 This travel pouch's contents are the most basic supplies I have for art journaling.
I'm going away for a few days and will be taking a mini art-making kit with me.
Because I am flying instead of driving I'm more considerate of what I will bring. I won't be checking my bag (hopefully) so I want to make sure that what ever I bring will not add a lot of extra weight or bulk.
I'm not planning to make a lot of art when I am at my destination, I just want to keep busy at the airport and during the flights.
I made a little sketchbook without a cover. Knowing how to bind your own books with the paper that you like is priceless. I could have folded my paper and made an accordion type book but knowing how little space there are on airplanes these days I didn't want to spread out that much. Plus I love little books. I started a few pages with supplies I am not bringing.
In my pouch, I have a few Inktense pencils, two Stabilo pencils, a water brush, a black and a white pen and a mechanical pencil. I have a small piece of a paper towel and a small piece of palette paper. And a few business cards in case I meet some curious people on the trip.
I took out the tiny spray bottle that is in the lower photo. I was going to use it for a back up water supply for the water brush. I think I can do without it.
When I get back, I will let you know how it went with my choice of travel pouch contents.
What are your most basic art journaling supplies?