Sometimes I like making simple backgrounds for my journal pages with no intention as to what will follow. The problem with that is where do I go from there?
One solution is to write a favorite quote on the page.
Sometimes I have a hard time with the spacing or size of the quote in that it doesn't fit or work out the way that I imagined.
I recently started writing out the quote on a sheet of tracing paper that I lay over the page that I will be writing on.
After you test out the writing on the tracing paper, then you can do the writing on your journal page. I used a Pentel brush pen.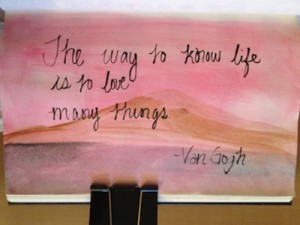 Now, what should I do with the practice piece of tracing paper?