White Pens for Art Journals
Have you found a white pen that works well for your art journal?
It's taken me a long time and now I think that I have found two or three pens that will be my go-to pens when I want to write or draw over dark surfaces in my art journal.
To start the sample page I used a discarded plastic gift card to scrape Golden Airbrush Colors in Carbon Black across the page in my art journal.  It only takes one or two drops to make a line. The sketchbook is an A4 size Moleskine.
Scraping the paint across the page is one of my favorite methods of using paint in my journal for several reasons. I will detail the technique in an upcoming blog post.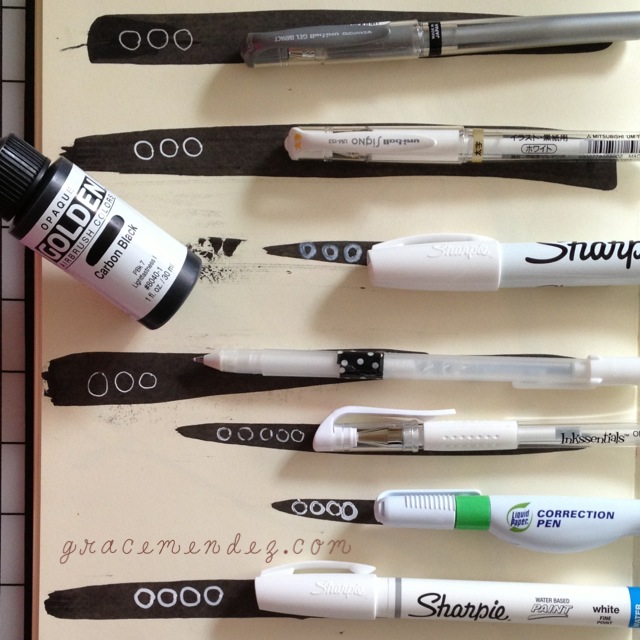 From top to bottom:
Stanford uni-ball Gel Impact (Silver)
This is the only pen that I used that is not white. It was so smooth going on with no trouble what so ever. When I run my finger over the top of it, it seems to have dried the flattest. It dried quickly but not immediately. It's a roller tip pen with gel ink. I don't really know what "gel ink" means, I just know it is identified as a gel pen.
This pen also went on with no problems or blobs. It left a slight texture on the surface when it dried. This pen is also roller tip pen with gel ink.
Sharpie Paint, Medium Point, Oil-based Opaque Paint Marker
I don't think I shook this pen enough before I started using it. There is a ball bearing type of device inside. It is similar to shaking up a spray paint can. The first time that I made the circles in the sketchbook the ink came out clear and it didn't leave a mark, just a oily trail. I shook it up a bit more and tried again. The tip of the marker must be depressed to allow the ink to flow through it. Perhaps I didn't get it primed enough the first time. It was better when I tried again but it left a fuzzy look. It dried flat to the touch.
If you have problems with fumes this pen is not recommended.
The barrel is metal. If you want a pen to take with you while traveling it is bulky.
I love Sakura products. I believe this pen gave me the thinnest line. In order to get full coverage I had to draw s-l-o-w. Go too fast with this pen and it leaves gaps.
The Gelly Roll pen seemed to dry faster than the white Uni-ball Signo. I don't know if it because it put down less ink or there is a difference in the inks. 
I have had this pen in my collection for a few years. So this may not be a fair assessment compared to the other pens because it has been laying around unused. Although I cleaned the dried crust off the tip of the pen before starting in my art journal, the pen did not write smoothly. If I let up on the pressure it would skip. If i pressed down a bit more it left a un-inked portion of the circle where the ball point touched the page.
I have heard that using this would make my life easier because I could pick it up at an office supply  or drug store.
So I did. I went to the local office supply store and bought one.
The idea is to squeeze while moving the pen. Either too much came out or too little. It has fumes like the Sharpie Oil-based marker. And it left an uneven gloppy texture that I did not care for.
Maybe another brand may work. Let me know if you find one that works for you.
Sharpie Water Based Paint, fine point
Similar to the Sharpie Oil-based pen, you have to shake the pen before starting and depress the marker point several times to bring the ink down to the tip. There is a slight odor but compared to the Oil-based marker it's hardly noticeable. It feels almost flat to the touch once it dries.
Even though it is bulky, it's light weight. The barrel is plastic. It feels lighter weight in comparison to the Uni-ball pens.
You may be able to tell which ones I liked the best:
Stanford uni-ball Gel Impact (Silver)

Uni-ball Signo UM-153

Sharpie Water Based Paint, fine point
I don't think I have to keep searching for the perfect white pen. I am finally satisfied to add these as my go-to white pens for art journaling.
Have you found a white pen that I haven't tried here? What is it and how do you like it?