The prompt for this journal page is the letter A.
It's an exercise in using what is given to you and how to make the best use of it. We don't always get to choose what is placed before us. Life is full of twists and turns and being flexible is a good practice in order to maneuver through life with peace and ease.
With that said, I am presenting you with an "A".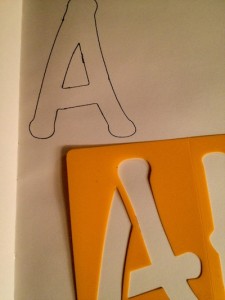 Materials needed:
paper, it can be single sheet of printer paper or a page in your journal
stencil of the letter A
pen or pencil
markers, Gelly Roll pens or crayons
OPTIONAL: Exacto blade or scissors, printer, manilla folder
The use of stencils is an easy way to get some visual interest into your journals. If you want extra credit, don't use a stencil at all. Just free-hand the letter A.
Stencils can be purchased at at art stores, craft stores, or even hardware stores.
If you don't want to buy stencils or draw free-hand, you can use your word processing software. Open up a blank page and pick out a font you would like to use. Adjust the size of the font as large as you can stand. You can print out the whole alphabet or just the letters that you want to use. Carefully cut out the shape of the letter with an Exacto blade or scissors.
If you would like to create a more durable set that you can reuse, after you have printed out and cut up your letters, transfer the shape of the letters onto a spare manilla folder to cut up and create your stencil.
Start your writing with a word that begins with the letter A. See where it takes you. Stop when you feel you have written enough.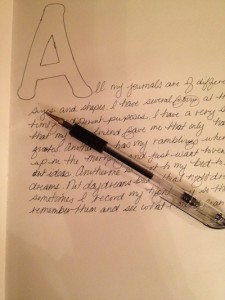 After you are done writing, go back and decorate the stenciled letter.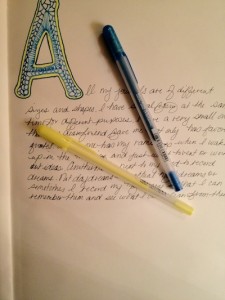 You may decide to use the same pen you wrote with to make a pattern or patterns within the letter or a use different colored pens or crayons to make it stand out. For my example, I used yellow and blue Sakura Gelly Roll pens.
Do you have more to say? Go back and write some more.
Or do you want to do it again and use another letter? How about going through the whole alphabet? Let me know how it goes for you in the comment box.