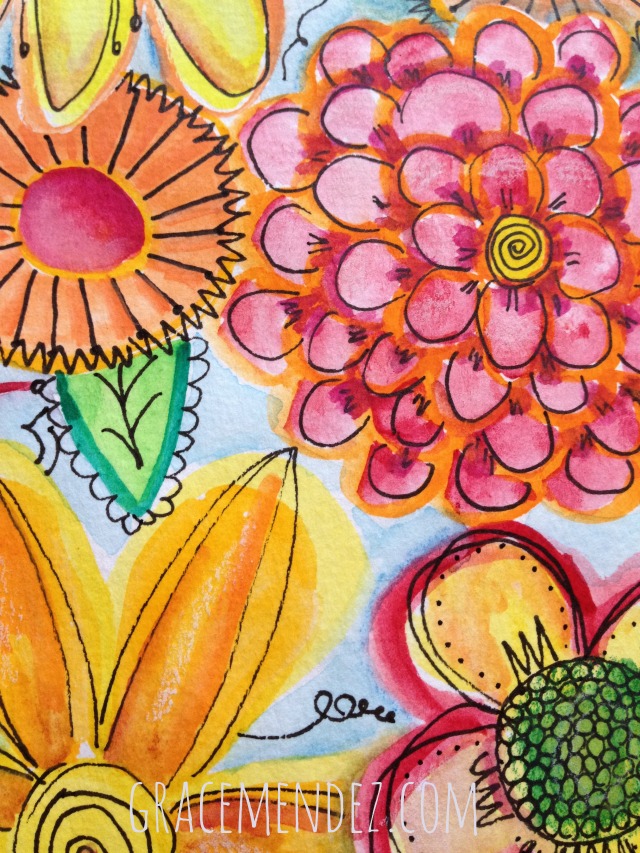 10 Basic Art Journaling Supplies
This post is in answer to the question posed by Julie Fei-Fan Balzer. Her question:
What five additional supplies would you add to this grouping of basics to complete your own personal art journaling kit?
Julie's kit includes:
I totally agree with her first three items.
I don't use stamps or the ink pad in my art journaling. Here's why:
Part of my exploration in art journaling is to practice drawing. To rely on stamps takes part of my practice away. I don't use stencils in my art journals for the same reason.
The process of carving stamps is fun and have kept the collection of my hand-made stamps from many years ago.
I also have an assorted collection of stencils from when my children were toddlers.
I like to use my stamps and stencils once in a while. I am not opposed, I am just not focusing on them any more.
Another reason for not using stamps or stencils is that I used to sew for a living. And I had a lot of supplies. One of my goals once I ended that part of my life was to minimize my stash. I admit it's been tough. And although I have stopped buying fabric and all that goes with sewing, I have been buying assortments of papers, pens, pencils, blank journals, paints, brushes and books. I do have the physical space to add more stencils and stamps but not the desire.
My substitutions for the black ink pad and stamps would be:
These are my choices of additional (essential) supplies:
Derwent Inktense Pencils -These colored pencils can be used dry and when wet with water, they behave like watercolors except that when they dry again, they are permanent.
Neocolor II Aquarelle Artists' Crayons by Caran D'Ache -They are creamy when applied and when wet they act like watercolors and blend easily.
Graphite pencil – Great to sketch out designs or lettering before painting. I also like to date my pages with pencil. When I volunteered in the archives department at the Museum of Art and History Santa Cruz, they taught me to use pencils when writing on documents because of the archival quality. Uh oh, what if years from now I opened my journals and everything was gone but the dates!
Stabilo colored marking pencil -I use this pencil to sketch with and then use a water brush to get instant shading. Here is an example with only a blue Stabilo and a water brush.
Kneaded eraser – It doesn't leave any residue and can be kneaded into any shape.