3 Approaches to Saving Your Ugly Art
I'd like to give you 3 approaches to saving your ugly art.
First off I'd like to tell you when I say, "your art" I am really talking to myself.
Recently I purchased a set of conte sketching pencils because I saw artwork done with them that was stunning. I believed that if I bought some of those magic pencils, then my work would be stunning too, right? Not necessarily so.
My husband has never said a bad word about any of my art work. But I did scare him (and myself) with this piece in my art journal:
The exact word he used was, "Whoa!" with very wide eyes. Then we both laughed.
I knew I wasn't done with it when I came to this stopping point. The important thing was that I didn't get discouraged by this stage.
Remember a time when you didn't like what you created. What thoughts came to you? Was it ugly, dumb or a waste of time?
Part of why you don't like your work may be because your inner critic is speaking up. The inner critic wants to protect us by hiding our not-so-best work from the world. We shrink and hide our artwork.
Maybe we don't like our work because of some truth. What you created is lopsided, the colors clash or the proportions are off.
As with many new projects, a learning curve is likely. The best thing is to give yourself lots of space to practice and fail and practice some more.
Here are 3 approaches to saving your ugly work:
Let it go and start over fresh.
Collage over it and salvage parts you like.
Keep going.
Of course these are not the only ways to salvage your art and may not be the best way for your particular situation.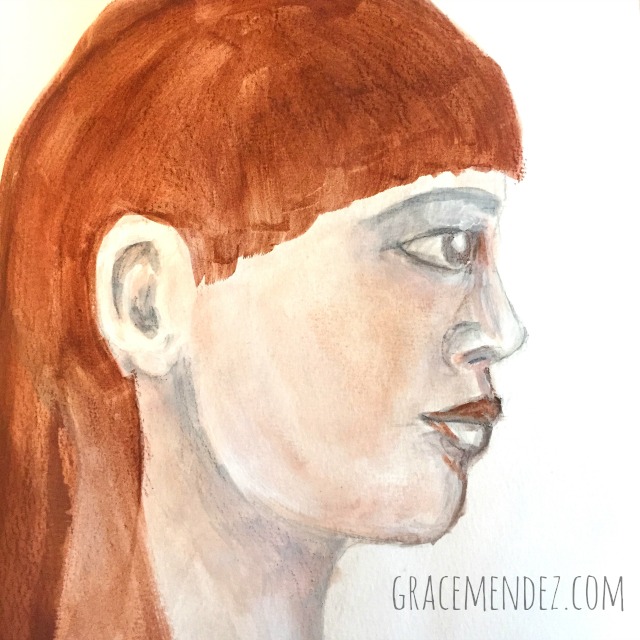 I may or may not be done with this image. My intention was not to create a mullet so some more work on the hair is likely.
My approach, using No.3 (Keep going), has made a big difference. At least I moved past the zombie peeled-off-skin look.
What approach have you used to revive your work?