Art is You Retreat Petaluma, CA 2014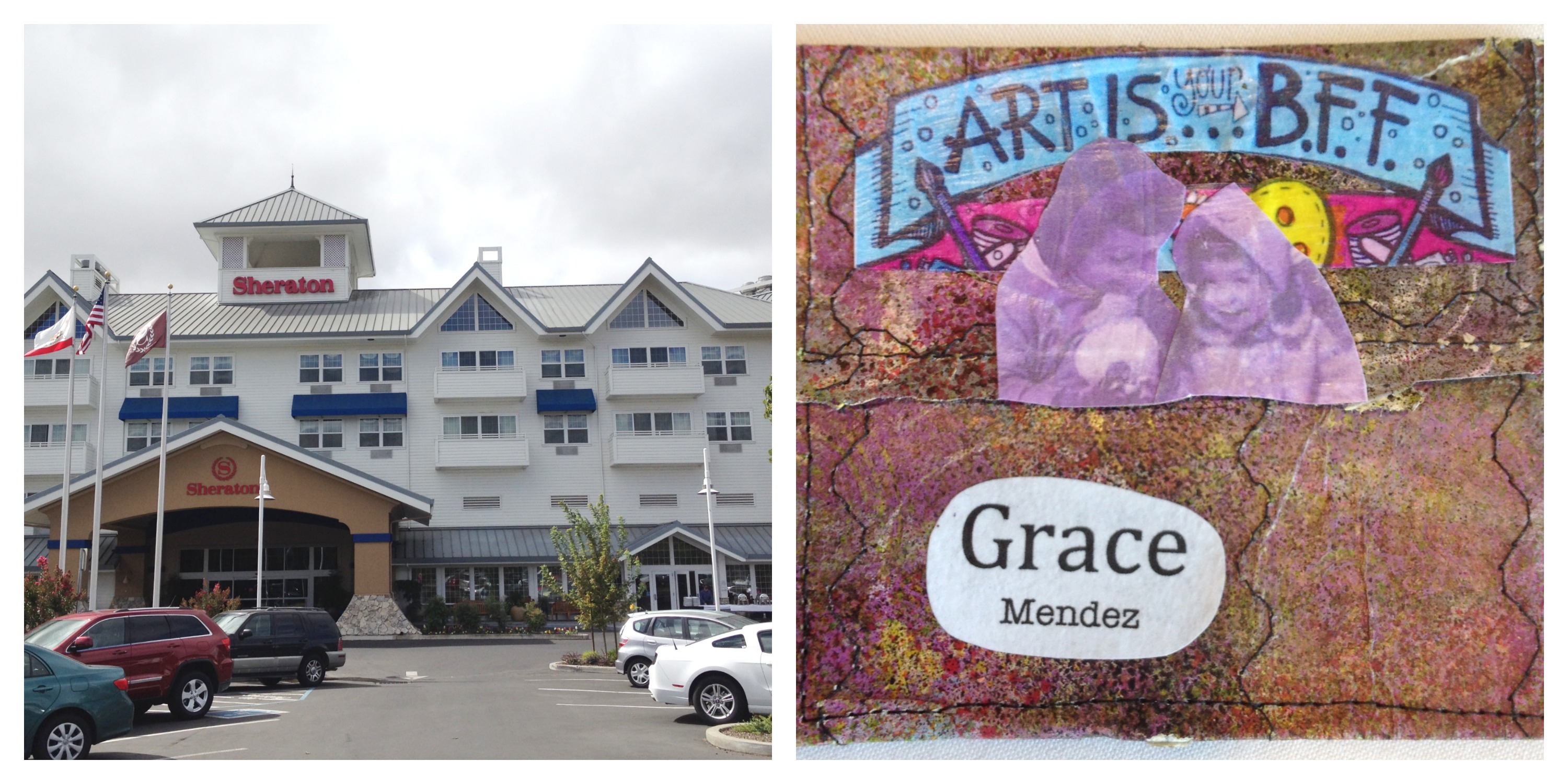 For the third year in a row, I went to Art is You mixed-media art retreat in Petaluma, CA.
I took two, one-day workshops. I met women from all over including Canada, Washington DC, New Mexico and Minnesota. There were many local women from surrounding areas, too. I live close enough to drive so I didn't stay at the hotel.
On Saturday I took Andrea Matus Demeng's workshop: Gypsies, Tramps and Thieves. Collage, paint and assemblage were the techniques that she showed us. She was very open and generous in showing us what direction we could take our work.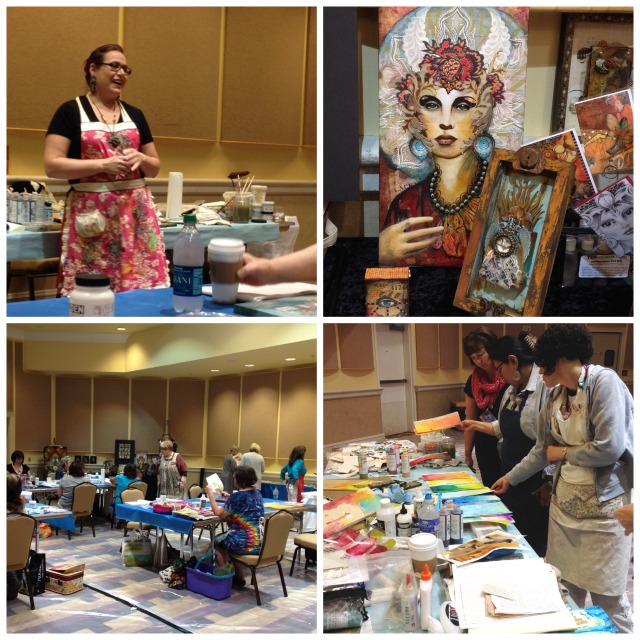 My central image (below) for this project was a copy of one of my original that I took from my art journal. The original was painted with Derwent Inktense color pencils. The reason she was painted bald was because I knew I was coming to the workshop and didn't want to have to remove hair while working on the project.
To get it ready for the workshop, I took a photo of it with my iPhone, uploaded it to my computer, loaded it to a thumb drive, took it to Kinko's and printed it out. The reason for doing all of that is that an ink jet image does not work for this technique. I tried putting the original on the copy machine at Kinko's but could not get a decent reproduction.
Six hours goes so fast when you are having fun. It's mostly done. What I love most of all is the whimsy and all the imagery she has.
My second day I arrived early and found the Alman Marsh Trail behind the Sheraton. It was perfect to start the day with a half hour walk in nature.
I used to work primarily in 3-D art before moving to the East Bay nine years ago. When I moved, I down sized my possessions and wanted to focus on drawing and painting, which doesn't take up as much room and it is more portable than working in a studio.
My teacher for the day was Michael Demeng, husband to Andrea – who I had the previous day.  It was so great to get my hands back into using power tools like a Dremel, a sander, and a power screwdriver.
The name of our workshop was Danse Macabre. It was loosely based on Dia de los Muertos, a celebration that is done in remembrance to our loved ones who have passed away.
Lunch was included and yummy!
Michael showed us lots of paint color combinations with fun names like Rusty Crustacean, Sassy Sultan Brown and Red Velvet Vampire.
Honestly I don't know how the time goes by so fast in these workshops. My diorama was not completed in the time we had. You can see mine in the lower left of the bottom photo.
I'm looking forward to the next Art is You retreat in April 2015. I hope that if you go, we can meet in person.