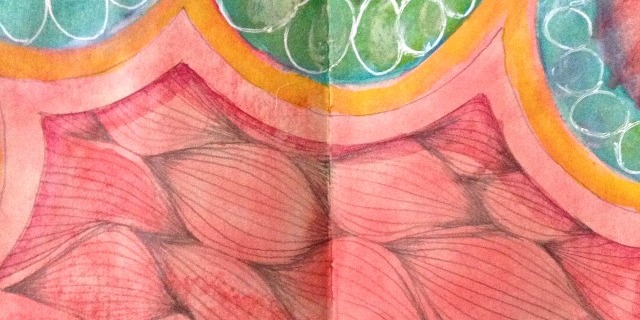 Art Journal Page Limited to Ten Supplies
I cheated on Julie Fei-Fan Balzer's challenge to create an art journal page limited to any ten supplies.
Does the journal really count as one item?
I guess it does, but I am not counting it as one of my supplies. It's a Moleskine sketchbook in case you are wondering.
Also, 1a. and a 1b. are counted as one item.
So really, I used 12 items.
I usually go for a minimalist style and only use a few supplies on any one page in one sitting. It was fun to keep adding more layers in a short time frame. The pages in my books usually develop over time – months or even years as I revisit them and add more layers. I enjoy that process because it gives me something to look forward to.
This page spread was done in one evening.
I love the process of creating art journal pages more than getting to the end result.
What is your favorite part about creating art?

1a. and 1b. Panpastel and applicator
2. Daler Rowney White Ink – Oops! I didn't include the brush I used to apply the ink as another item. So 13 items?
4. Waterbrush
5. Stabilo pencil
7. Neocolor II crayons
8. Pencil
10. Derwent Inktense pencils