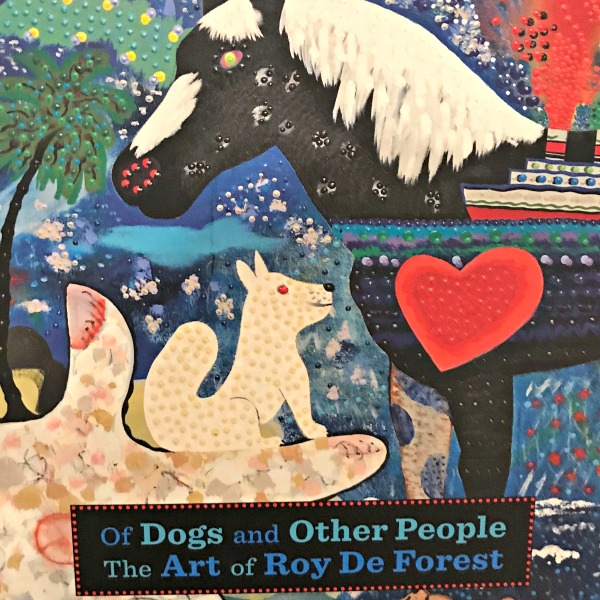 The art of Roy de Forest was recently on display at the Oakland Museum of California.
What I love about his artwork is the authenticity that speaks to me. It is as if the artwork comes right from the artist without any filters.
Texture
When you see the paintings in person, the texture in the painting is pronounced. Dots, dots, dots all over the place. The paintings remind me of folk art and their color blocked motifs.
About Roy de Forest
Unfortunately, I don't know much about de Forest except that he lived in the Bay Area of California and what I read about him in an obituary. My lack of knowledge is only temporary as I plan to find out more about his life and his process.
Sometimes at a museum, I must admit that I don't always read the captions that accompany the images. The labels are of course, important and informative, but I find that at times I rather absorb the image and not be interrupted at the moment by processing additional information. To be able to slip into wordlessness is a challenge in our current media rich world. I find it a welcome break to take a break from reading once in a while. If you are a visual person, perhaps you understand what I mean. Plus, there is a book, Of Dogs and Other People: The Art of Roy de Forest, that has a lot more information than I could possibly remember in one visit to the exhibit.
Museum Memberships
The nice thing about a museum membership is the ability to return numerous times to visit. The pressure to see everything in one visit goes away. Check to see if your local museum is a member of a reciprocal membership such as ROAM (Reciprocal Organization of Associated Museums) or NARM (North American Reciprocal Museums). If you live by several museums or travel a lot, it is a wonderful value.