A Change of Scenery to Boost Creativity
A change of scenery always helps me boost my creativity.
It's no lie that during the week I spend a lot of time inside. I create art, send out a weekly newsletter, sew, read, watch movies on a Roku player (we opted out of cable TV), cook, clean, write blog posts and take long baths.
I live an urban area and the post office, the grocery store, Urban Ore, banks, restaurants, cafes, a fabric store, drug stores, a hardware store, public parks and my dentist are all only a few minutes walk from my home.
Within a few miles from my home I can drive, bus or bike to Blick Arts, the library, and many, many other businesses and services. You probably get the picture by now – I am surrounded by businesses, buildings, buses, cars, bikes and pedestrians.
To boost my creativity I take frequent breaks.
This past weekend, I was craving a natural environment away from my usual radius of regularly visited locations.
Recently we had had unseasonably sunny, warm weather for the San Francisco Bay Area so we took a short road trip to the coast to visit Hollow Bean State Beach.
I didn't do any art journaling or writing while I was at the beach, although I do that frequently when I go the beach. Northern California Pacific Ocean water is usually too cold for my bones to swim although I do like to wet my feet if the surf isn't too rough.
I filled up my creative well by stretching my eyes. What I mean by that is that I do a lot of up close work: artwork, computer, reading, etc. It felt great to look as far out to the horizon as I could.
I listened to the birds and surf.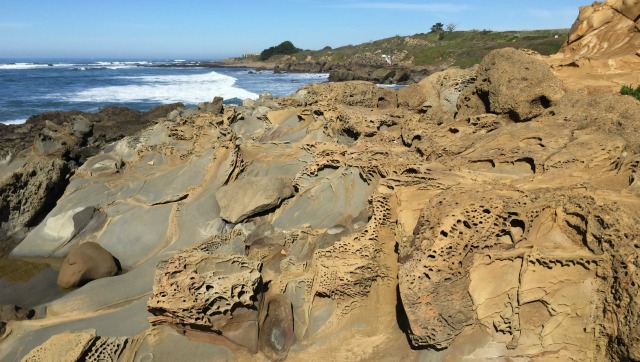 I felt the tiny pebbles and sand in my hands and between my toes.
I took notice of the colors and formations.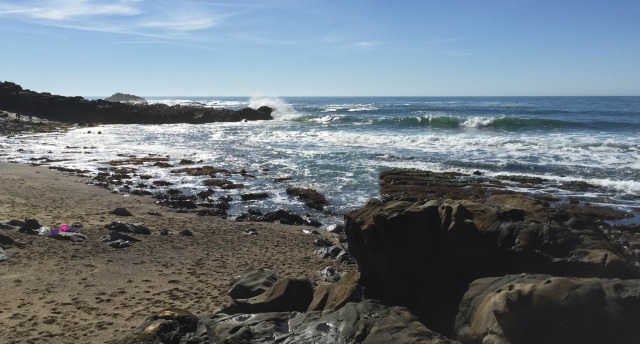 I inhaled the sea air and tasted the salty spray.
A change of scenery in combination with a break away helps me when I get back into the studio and it's time to be creative. It refreshes and recharges me.
What helps you boost your creativity?
I'd love to hear in the comments below.