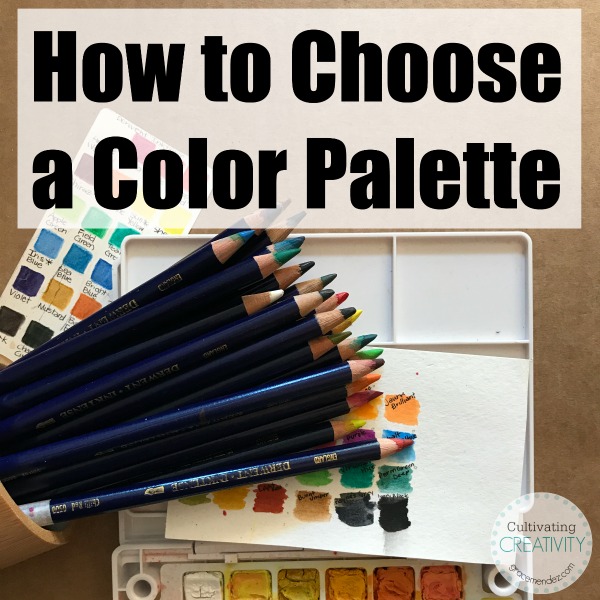 How to Choose a Palette and Speed Up Your Art Making
Why Choosing a Palette will Speed Up Your Art Making
To be clear, we are going to talk about choosing colors for your palette, not the board or location where the paints, or colors are stored.
The speeding up process comes when it's time to create your artwork. When you don't spend time figuring out what colors to use before you start, you can get on with it.
Definition of palette from Merriam Webster
a thin oval or rectangular board or tablet that a painter holds and mixes pigments on

a:  the set of colors put on the palette

b: 1.) a particular range, quality, or use of color "The designer's palette consisted mostly of earth tones."  2.) a comparable range, quality, or use of available elements
From https://www.merriam-webster.com/dictionary/palette
Two Ways to Choose a Palette
The first way is an easy way: let someone else do it for you.
You can purchase a set of watercolors, pencils, markers, acrylic paints, acrylic inks, etc. They come in all sizes and price ranges.
Someone has already put the colors together that they believe will work for you. It's convenient and easy. This is a great way to start your journey into art making or testing out a product line. I have found that buying a set is usually, but not always, less expensive to purchase than individual products.
The drawback is that you will be using the colors that they choose for you. You may end up with a bunch of colors that you hardly use. And yes, you can mix colors together to create more colors but those colors still may not be in the color range you prefer.
When you find the colors that you don't like, it will definitely help you with the second way.
The second way takes a little more thought but will create a look that reflects your style.
You will create a personal palette by choosing your own colors.
If you have previously purchased sets and noticed that you don't use certain colors, this makes your choices easier when you go to buy individual products because you can eliminate those colors.
Now that you know what you don't like, how do you go about choosing the colors for your personal palette? Here are several paths to take to get there:
What are your favorite colors to wear? Is there a favorite scarf, blouse, skirt, or dress that you have, or wish you had that you love? What jewelry do you wear or wish you could wear?
What colors do you live with? Which colors make up your pillows, towels, plates, rugs, or fresh flowers that you bring home?
What movies do you like the look of? (I recently watched Hotel Splendide and fell in love with the combination of the deteriorating Jade colored walls and warm, brick-red leather dining chairs.)
What colors in nature inspire you? Do you like a garden with a wide range of colors from bright white daisies, yellow sunflowers, red roses, and spikes of lavender? Or do you prefer a monochromatic collection of colors from a shady fern grove or a field of wheat that's almost ready for harvest?
What artists or art work inspires you? Are they using bright colors, muted colors, or a lot of contrast?
In the end, whether you choose a pre-made color palette or choose your own colors, know that you can change your mind. You are not locked into a particular set of colors.
Donate those extra paints, pens, pencils, etc. that you do not use to a teacher, an art making friend or family member who will appreciate it.