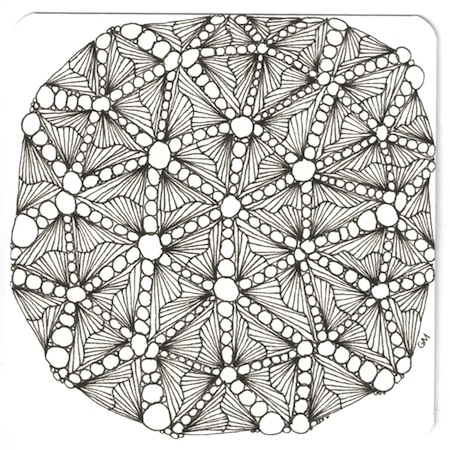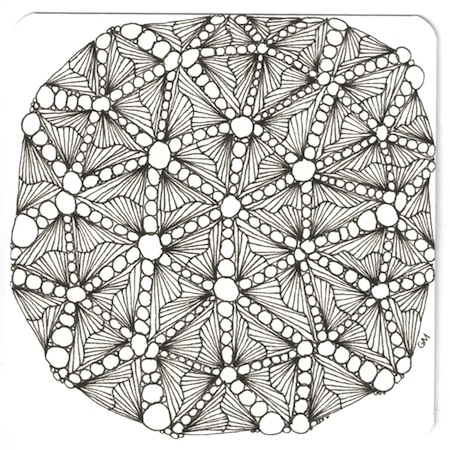 Focus and Direction
Do focus and direction ever trip you up?
Maybe I should say, "Lack of focus" and "Lack of direction" to be more clear.
As I was working on this weeks tangle challenge, called Tripoli, I wanted to get up out of my seat and tend to the other things waiting on my to do list. But I resisted that urge. I made the conscious decision to focus on what I was doing and get this one thing done.
I could have taken a short cut and showed you what I entered in a group show, called Rhymes with Orange, but I had so much fun creating the large version that I did it again in this smaller scale (3.5″ x 3.5″).
Why do I spend my time filling these little squares with ink? What is the value in spending my time doing this?
When I tangle with intention, insights come.
My interpretation for this week is that things get done when you focus on them.
The direction part comes in after knowing what to focus on.
As I created this mini piece of art, I realized that there are many directions life takes us and many ways you could go. I saw each of the three points on each of the triangles as little arrows pointing the way to go. As I filled in the image it was easy to lose my way. I followed the empty spaces and had to keep backtracking to find the places I had missed as I worked my way around.
The circles between the triangles reminded me of stepping stones: some large and some small, just like the steps that we take each day of our lives to get to where we want to go.
It took time, but I got it done. It's not symmetrical, it's not even, but it is done.