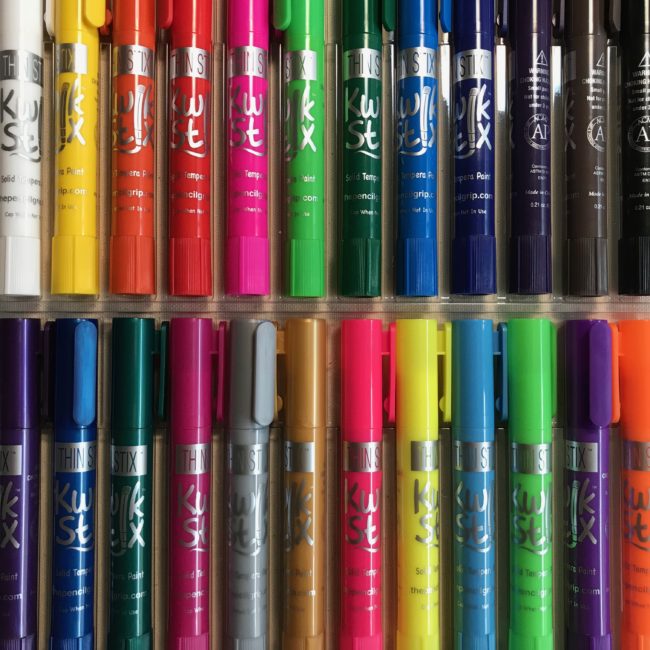 Product Review: Kwik Stix Solid Tempera Paint Sticks
Kwik Stix, my new favorite art supply, is marketed toward children. Their description says Kwik Stix are solid tempera paint sticks. They look a lot like markers until you pull off the cap and see they are solid like lipstick.
They behave like super creamy crayons with no problem going over dried acrylic paint. In my testing, I found that the color is removable with water over the acrylic paint but permanent over an uncoated paper.
Kwik Stix vs Gelatos®
Perhaps you use Faber-Castell Gelatos. Gelatos are similar in how you directly apply them to your surface from a twist up tube and also the creaminess factor. I want to like Gelatos but I can not get beyond how they smear long after I use them. I love that the Kwik Stix dry almost immediately and don't smear. Gelatos still feel oily long after they have been applied. A lot of my work is in art journals and I don't want to use a product that transfers to the facing page when I close my book.
As a test, I did a side by side comparison with a Gelato and a Kwik Stik over dried acrylic paint in my art journal. The marks set for a couple of minutes and then I came back with a dry paper towel. After rubbing the marks with the dry towel, the Gelato mark came clean off the page and the Kwik Stik mark stayed put.
Professional Art Supplies vs "Kids'" Supplies
There comes a freedom of using supplies that are not precious or expensive. I have a set of "professional artist" oil pastels that are just as creamy when applied but cost a whole lot more! Do I use them? No. It seems a waste to use them in an art journal when I am just playing around making marks and drawing goofy faces.
I value the quality of a good supply. In fact, I veer away from student grade paints because of the frustration that comes from a low pigment-to-carrier medium load. But usually, kids' art supplies hardly disappoint. Perhaps it is because of an initial low expectation in the kids' supplies.
Are there any kids' art supplies that you have tried that surprised you in how much you like them? Let us know in the comment section below.
Video Review: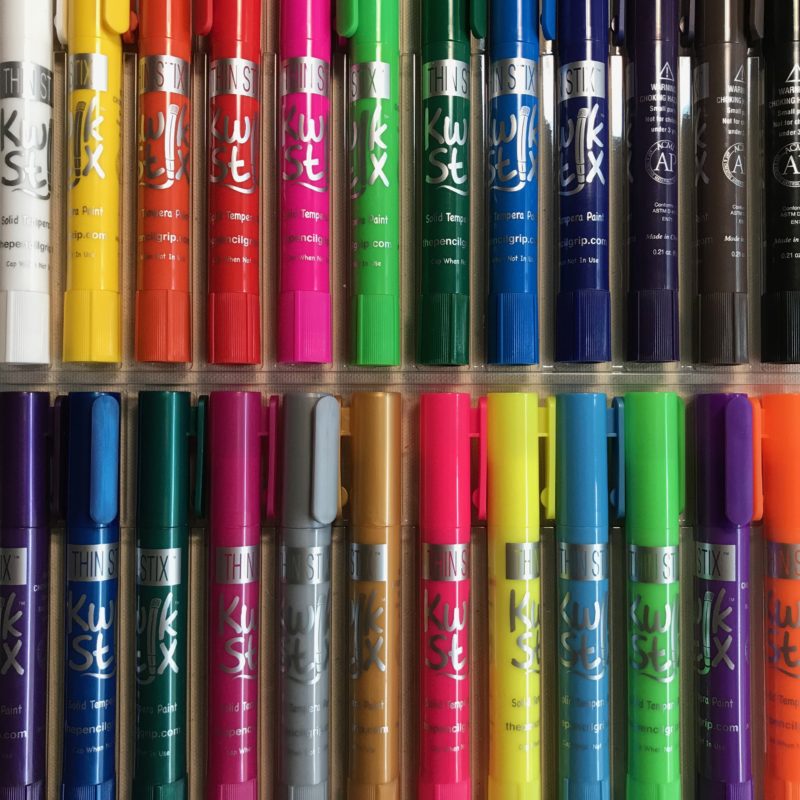 SaveSave
SaveSave
SaveSave
SaveSave
SaveSave
SaveSave
SaveSave
SaveSave
SaveSave