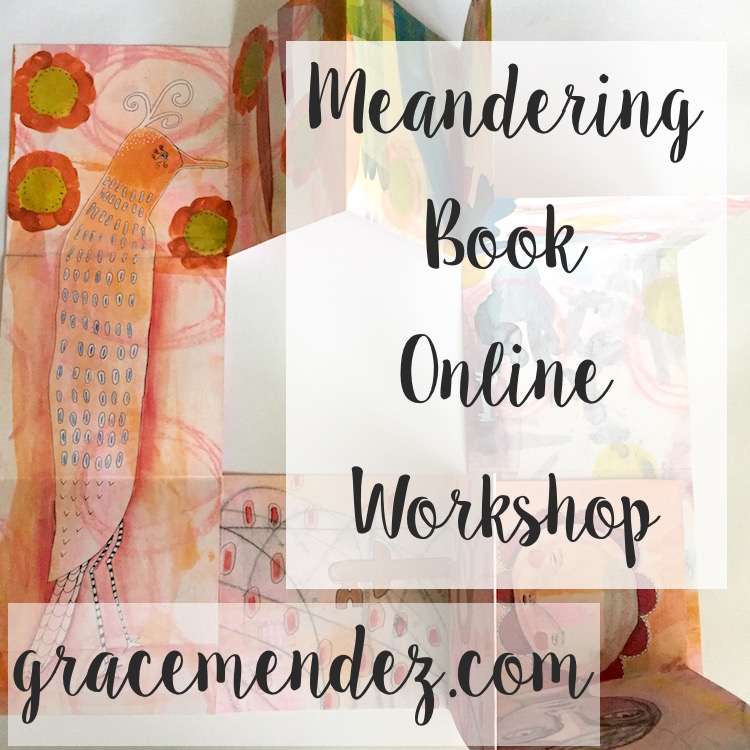 Meandering Book Online Workshop
I love working on paper. I also love portable art making.
On the first floor of my home, I use a spare bedroom as my studio. The rest of the living space is on the second floor. This means I often tote my art supplies up and down the stairs, especially in the evening when I go upstairs to watch (or mostly listen) to a movie on Netflix.
I also like to travel light and carrying a bulky, hard cover, art journal is not something I enjoy. I rather carry a soft covered art journal and a small pouch of art supplies to the park or cafe.
The last couple of months, I have been working in handmade journals and meandering books are my go-to favorite right now.
Meandering books are created from one sheet of paper and there is no sewing involved.
If you are in the area, you can take the workshop in Alameda, CA at Frank Bette Center for the Arts.
If you can't make it, purchase the meandering book online workshop. It's available now.
The easy-to-do backgrounds help with "blank page syndrome" so that you can have fun working on the pages.
Each step in the workshop has a short video to guide you.
The meandering book online workshop is self-paced with unlimited access.
The supply list is on the information page.
Click here for more information