Watercolor, Dry Brush and Hand Cut Stencils
I came across this technique from a book called "Make Your Mark" by Margaret Peot. She has a lot of ways to create backgrounds in this book. If you have not read it yet, I recommend it. This book is different from a lot of the mixed media books that are popular on Amazon right now because there are only two colors used in the printing of the book, sepia and a dark brown. At first I was a little disappointed in this but she explains that it is done with the intention to not get hung up on what colors to use when getting started and also as a way to be more open to what you see as you work.
Gather Your Materials
Journal or sheet of paper
3 x 5 index card(oops! I said 3.5″ x 5″ in video), card stock or manilla folder
Scissors
Watercolors (I used Sakura Koi watercolors)
Flat brush
Paper towel or rag
Steps
Wet the watercolors to activate them
Cut the stencil freehand (scallops or zig zags)
Brush the watercolor over the stencil – from your hand toward the cut edge to keep from watercolor from seeping under
Stagger the stencil for the next row
Tips
Use one color, two colors or several colors
Alternate stencils
Use as a border or as an additional layer under or over other marks
Make sure brush is fairly dry before applying watercolor
Gessoed pages may not work well with this technique
Resource
"Make Your Mark: Explore your creativity and discover your inner artist" by Margaret Peot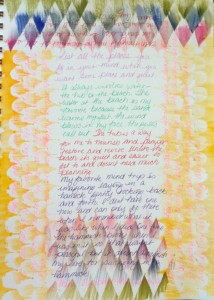 The journal prompt for this page:
List all the places you go in your mind when you want some peace and quiet.
Click here for a handout of the steps.
Scroll down to comment with your thoughts about this process.
P.S. Be sure to check out my new mini workshop on how to work with your inner critic and not let it get the best of you.