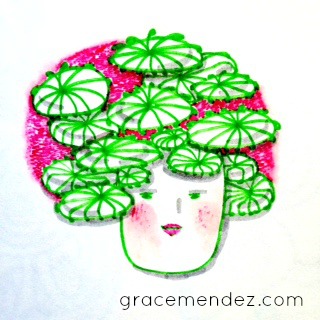 Moving Beyond the Visual Journal
Generally I use my visual journal for trying out supplies, for list making, responding to journal prompts and for just having fun.
I like the idea of having my artwork contained in book form, unlike my Gelli plate prints that are in a pile on a bookshelf.
What happens when a visual journal is goes beyond a place to explore the properties of paint and pen?
A visual journal has the ability to be a container of potential if you look beyond the original intention.
It may contain ideas that can be turned into an alternative purpose.
My current work in progress is a body of work called "Bad Hair Day".
The idea came from a little image that I had done in one of my visual journals.
This year I am participating in East Bay Open Studios and wanted to focus on a particular theme. I remembered my image and that was the beginning of my project.