Packing Tape and Colored Pencil Image Transfer
Packing Tape and Colored Pencil Image Transfer Tutorial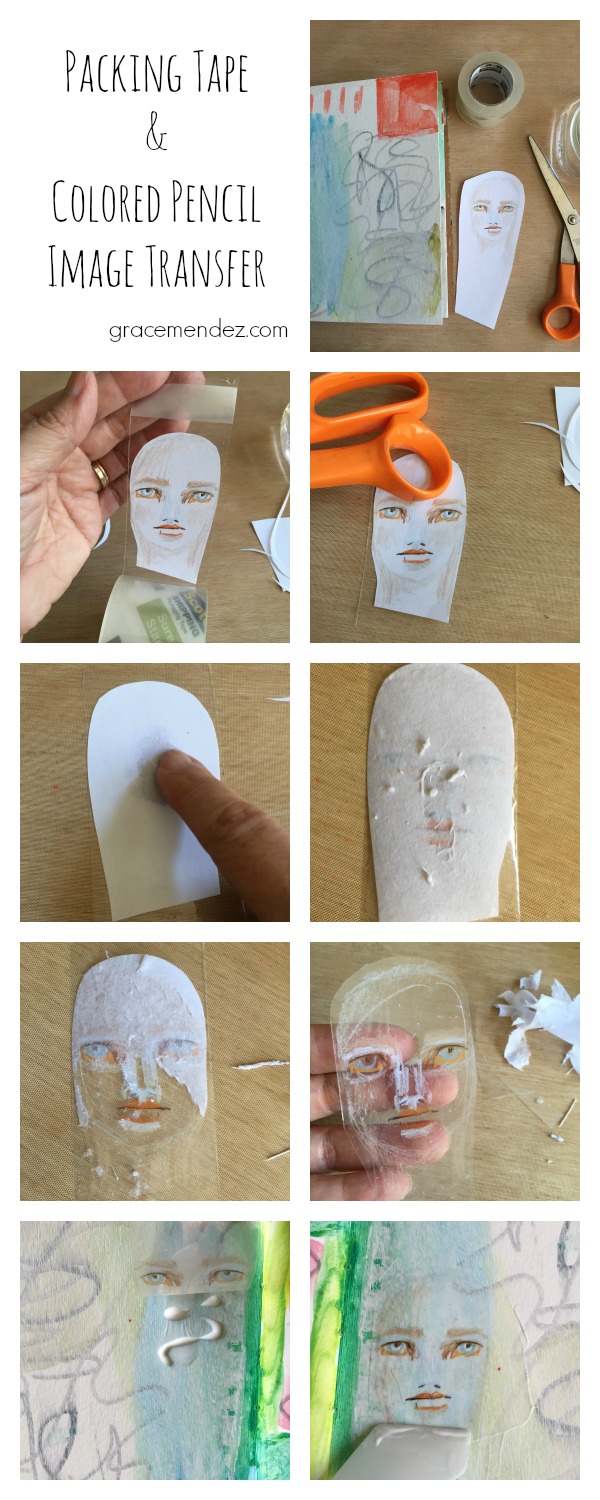 In my last post I gave you a short tutorial on using a laser copy to make a transfer.
This time I experimented with image transfers using packing tape and an original drawn image.
You can do these same steps with packing tape and a copy from a laser printer or you can use a magazine image. I have done those before but I have never seen it done with an original drawing.
You may ask, why wouldn't I just draw right onto the page that I put the transfer on? Good question!
I came up with a few reasons why you may want to try this:
The texture of the page is a bit bumpy and rough, not allowing good contact of colored pencils with the surface of the substrate
The surface of the substrate is too slick to allow you to draw on it, like a glass votive holder
You drew the image somewhere else and now you want to add it into your journal (or other substrate like a painting or collage)
You want the image to be transparent and collaging an image directly onto your substrate will not render a transparent image
You want to audition images before committing them to the artwork or art journal
It's fun
The steps for a packing tape and colored pencil image transfer are easy:
Select your image. My image was a quick sketch with Prismacolor colored pencils on printer paper. I trimmed my image to fit within the width of the tape.
Place the tape on top of the image (sticky side to the colored pencil). (I was starting with a new roll, so the matte part of the tape in the photo above is the beginning of the roll.)
Burnish the tape onto the image. I used the handle of my scissors. You can use a bone folder, a popsicle stick or the back of a spoon. Tip: I was working on a non-stick teflon® surface, otherwise I would have had problems lifting up the tape from my usual paper covered table!
Flip the tape and image over. I used my index finger to add a few drops of water. You don't need a lot to begin with. Let it soak in for a little bit.
Rub the wet paper off the back of the image.
Add more water as needed to get all the paper off.
Use matte medium to attach it to the substrate. You can use a gloss medium or gel as well, but in an art journal I like to use a matte product to prevent facing pages from sticking to each other.
Press down over the top of the tape to insure proper contact with the substrate. I like using a painting knife.
As you can see from this photo, when you are looking at it straight on, you can hardly tell that it is a transfer. When you tilt the page to the side, then you can see that it's glued onto the page.
I think it would be fun to layer multiple images.
How else could use an original image and packing tape transfer?