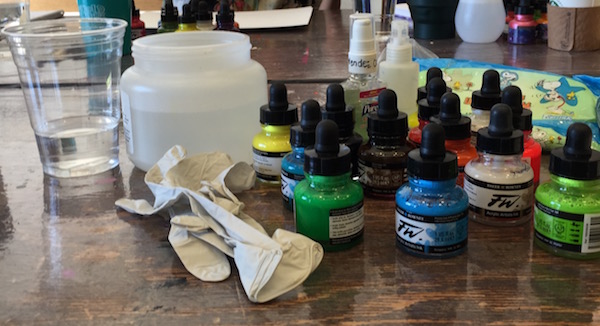 The Before and After of an Art Retreat
My notes on the before and after of an art retreat, specifically about Art is You 2016, Santa Rosa, California.
Before:
I don't know if you have been to an art retreat before. I'm getting ready to attend Art is You in Santa Rosa, California.
I've been to this same retreat several times and this will be the third location that they are using. It looks nice from the pictures!
I live about an hour away from the location so I will be driving there and back each of the two days that I am going to be there. I suppose I could stay at the hotel but the workshop hours are from 9 am to 4 pm so it's not a big deal to drive back and forth.
There are lots of workshops to choose from spanning jewelry making, bookbinding, painting, shabby chic kind of stuff and assemblage.
My choices are for 2-D projects on paper.
My first workshop is a collage workshop with Mindy Lacefield and the second is an acrylic ink workshop with Tracy Verdugo.
I think the hardest part before an art retreat other than the waiting, is the packing.
Each teacher at the retreat provides a supply list. My teachers have included the specific colors that they like to work with. This is very helpful to narrow down the field of available paint choices.
In Mindy's workshop I have gone with her recommended color palette because I have not worked with her before, plus I already had most of the colors so that was easy.
For Tracy's workshop I didn't purchase any new colors so our colors will not match exactly. I will be working with what I already have. Some of our colors overlap so I think that is close enough. I've taken her workshops several times and kind of know what to expect so it's easier to deviate.
Both of my teachers have very distinctive styles. I think the trick for me is to be able to take their information and somehow make it my own.
Then there is the "should I bring extra – just in case?" that comes with getting ready before a retreat. Just because I am driving doesn't mean that I should bring lots of extra art supplies. It's a balancing act between being prepared and traveling light.
Here are a few things that I do bring that are not on the supply list:
• My water bottle. Sometimes they run out of cups by the water cooler. I won't be tempted to dip my paintbrush into my water bottle, like I might if I had a cup sitting out. And if it gets knocked over, it's not such a big mess.
• Wet wipes or baby wipes to keep my hands clean and keep my tools clean as I go.
• Hand sanitizer for my paint brushes after I'm done painting. I apply a little bit to help clean them in the hotel bathroom. When I get home, I give the brushes a good cleaning. So far, I haven't had any negative effects on the bristles with this method.
• An external battery for my iPhone. I learned this lesson the hard way one year when my battery died and I missed out on a lot of photos.
The most important thing to bring though, is an open heart, a willingness to try new things, make new friends and reconnect with the familiar faces.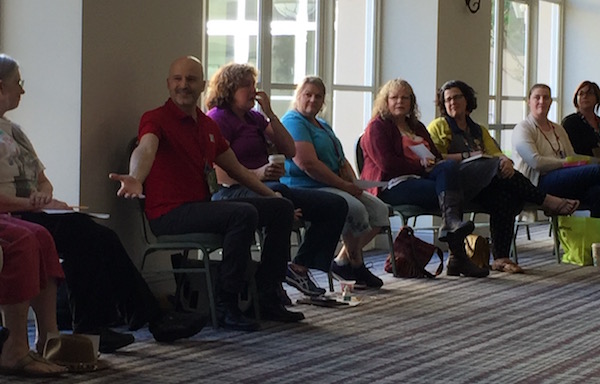 After:
It's been a few days since I went to the art retreat at Art Is You, Santa Rosa, 2016.
As always, it felt like it took forever to arrive and then it was over in a flash.
Friday morning I drove against the flow of bay area traffic when I head to the retreat, so it only took one hour. This was a new location for Art is You this year and a little farther away for me to drive but well within my reach.
When I arrived, they had already started the Morning Motivator, a pep talk and a way to connect with the other attendees. Everyone was seated in a large circle and the only available seats that I could see were across the circle. I took a deep breath and went through the circle with my "goodie bag" from Reily Art Store and my large tool box of art supplies, plus another tote bag that I brought with more supplies. Thankfully, when I got to the other side, that seat was still available and not reserved for someone else. I immediately recognized someone I have met a few times at previous art workshops and that helped put me at ease.
The conference room for our class with Mindy Lacefield was split with a large curtain that did nothing but mask the view of the other students in their workshop. We could hear everything that was going on in the other workshop and vice versa. Their jeweled art project consisted of pounding hammers and sharing tools. Either there were a lot of students or the few that were there were very boisterous.
Our workshop was calmer, and more serene. Our group consisted of 9 students. This was the smallest Art is You workshop group that I have been with. The women in the workshop ranged with those who had never been to a retreat, made any kind of art to those who were teaching (at the retreat and had a day off) and to others who sell their art. The thing that we all had in common was the desire to learn from Mindy and get tutored in her style.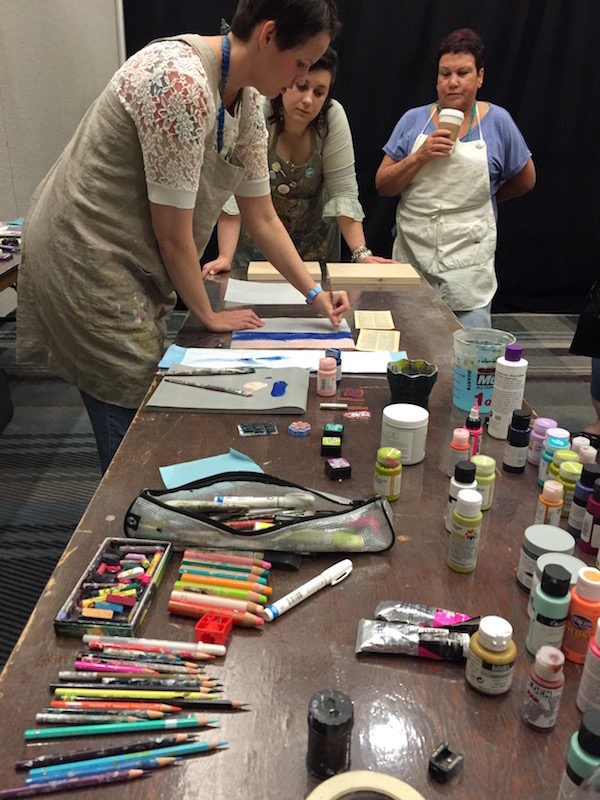 Mindy was a sweetheart with a lot of southern charm. Her instructions were very clear. She made it look easy when she was doing her demo. I took some videos with my phone to help me remember what to do later on. At one point though, I sat down after a demo and realized that I didn't hit the record button. Oops! I also took notes in a little notebook.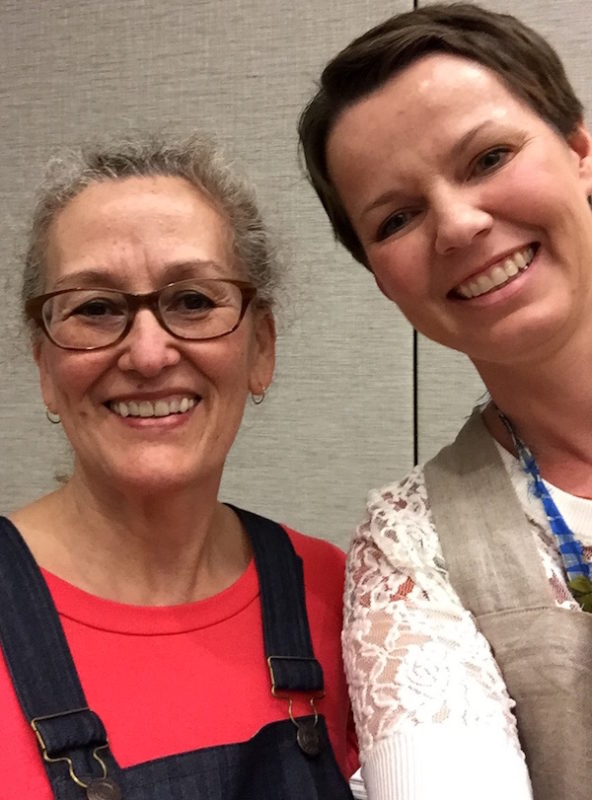 The teachers that come to the retreat have enormous amounts of knowledge and information to share. It can be a little overwhelming at times to absorb. It's done with the intent that they want to give you the best experience. I try to soak up as much as possible but I never can remember everything. Thankfully, Mindy brought some of the books she wrote and I bought one. I also bought a little pack of tutorial cards she made on how to paint faces. One of the perks to supporting a teacher directly is that you can have them sign your book in person. It's such a treat.
When I am working at home, I rarely work straight through from 9am to 4pm. I'd like to, but I break up my day with household errands, walking the dog, working on the computer, etc. When working on mixed media and collage, projects need to dry. My brain needs time to process what I have done, what comes next. In other words, I like to step away and get a fresh start again. My perspective changes and I can begin again feeling inspired and rested.
When you are at an art retreat, you don't have the luxury of waiting. You must act. It's okay that you don't have a completed project. The idea is to try out the techniques and take advantage of having the teacher there for help. It's why you are there. It's your chance to ask questions about how to approach your project, get suggestions on color choices, etc.
The social aspect is a big part of the retreat. I wasn't staying at the hotel so I didn't form a lot of the connections that happen over dinner and drinks or at the pool. I guess I could have made a bigger effort and hung around afterward. Honestly, the older I get, the more introverted I have become.
I did have fun at lunch, which was served outdoors on a grassy lawn surrounded by a waterfall wall, grapevines and trees. I am practically gluten free and almost vegan, meaning I eat a little cheese once in a while and some dairy (ice cream and chocolate mostly). The lunches that I ate consisted of salad and veggies. You serve yourself buffet style. I'm glad I didn't I waste uneaten food on my plate as I might have, had it been pre-plated. The round tables that seat around 8 people promotes conversation. The teachers mix in with students, too.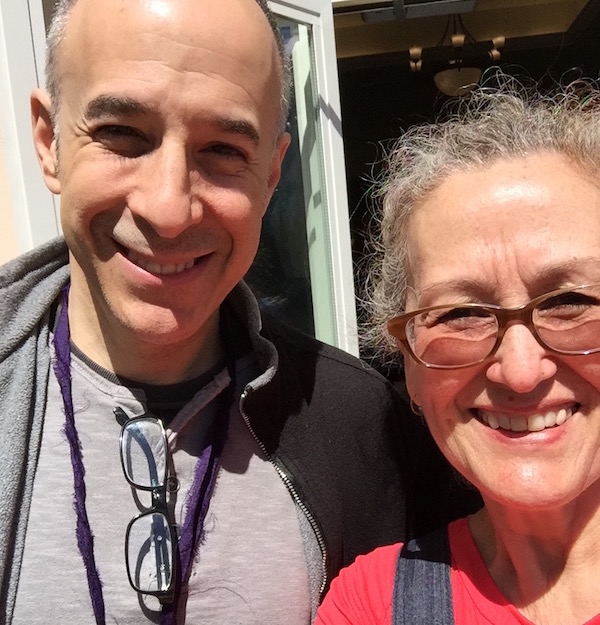 Along with this particular retreat is a trunk show with some the teachers' artwork and also supply vendors so you can pick up extra supplies. This year, the show seemed to be smaller but still filled with quality items. Previous years, even as an attendee, I've had to pay to attend the trunk show. This year, you only had to pay to enter if you were not taking any workshops. I went to the trunk show on Friday evening after a vegan dinner at Amy's Drive Thru and a quick drive on a country road.
At the trunk show, I purchased some vintage collage ephemera from one vendor who only accepted cash. Many of the vendors accepted credit cards, so having both cash and plastic is a good idea.
My next workshop, with Tracy Verdugo was also super wonderful. I don't know how else to explain it other than load this page with exclamation points and hearts. This workshop was sold out. I think there were about 20 women. Tracy didn't teach at Art is You last year so I didn't come. I'm a groupie, what else can I say?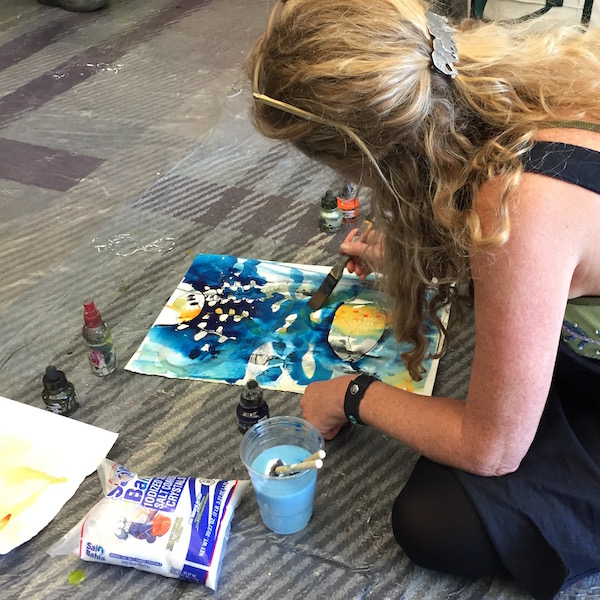 My only unfortunate issue was not with the workshop or venue but with my iPhone. I ran out of video space. That has never happened before. I wasn't expecting that to happen, so I didn't know how to take care of it right on the spot. I decided to take photos instead, but then my battery started to die. I brought my external battery so I was covered. Or was I? Uh Oh! I went to the car to get it and brought it back to the classroom. I didn't have the cord that went from the external battery to my phone. Ugh. I took a few photos and mostly took notes when Tracy did a demo.
Later, I went to the car again after I remembered that the cord from my car charger might work. Yay! It did. But by then the workshop was almost over. I will make sure to add "bring the correct cords" to my list of items to bring for the next time.
I've already put Art is You, Santa Rosa, on my calendar for next year. The first date is April 4, 2017. Will I see you there?