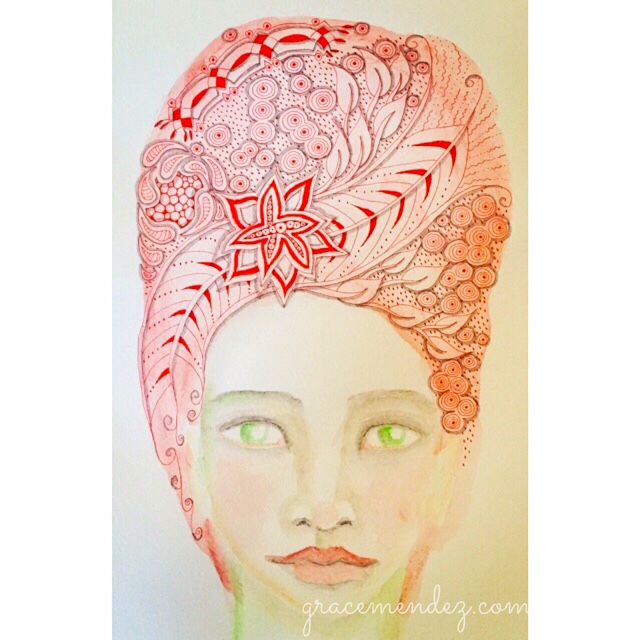 One of my favorite subjects for my art journals is a woman's face and zentangle® inspired art hair.
As a certified zentangle teacher, I have an immense love of abstract patterns. You cannot make a mistake. You may think you made a mistake but chances are, you are the only one who can see it.
Zentangle inspired art is a piece of artwork that doesn't fall into the definition of a zentangle. A zentangle is created on a 3.5″ x 3.5″ tile (piece of paper). It's created with ink and graphite. There are no rulers, erasers or stencils. It's non-representational and there is no orientation. It is usually created in a mindful, relaxed state.
Some people confuse zentangle with doodling.
There are some cross over elements but the core of zentangle is to produce a piece of work that is shaded and can stand alone as art. Zentangle is intentional. Doodling usually happens when you are on hold or listening to a lecture and you are bored. I have heard though, that drawing while listening helps you retain what you have heard. Zen-doodling is uncertified people teaching patterns. I highly recommend that you find a certified teacher in your area.
The zentangle patterns have names so that we can have a conversation about the art. We don't have to say, "I loved how she did that squiggly line with the dots and how it stopped and started again." We can simply say, "I love how she did msst".
If you have not started already, I hope you create some zentangle inspired art today.